My Kickstarter reward for backing The Maze of Games arrived this morning and I have to say… it's a impressive looking book cover-to-cover with lots of content to boot! Here's a short preview: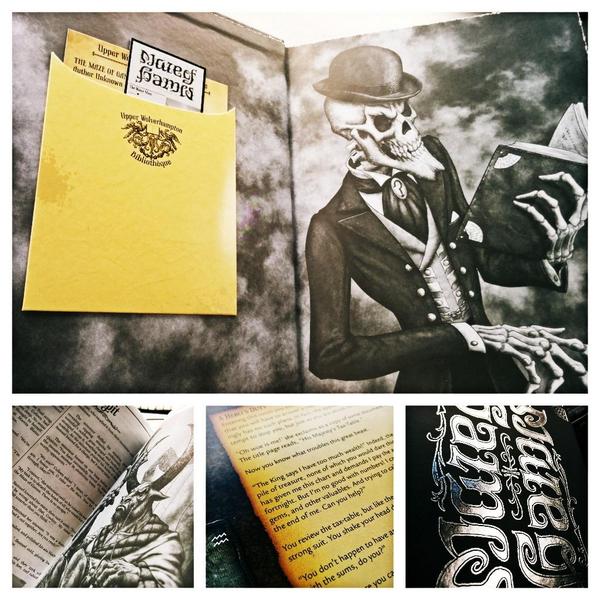 The front cover has a "soft-touch" feel, similar to the black Nexus 5 and has a unique "vertebrae" spine which I have never seen before. [see gallery at the end of this post].
The inside cover has a pocket containing an "Upper Wolverhampton Bibliothèque" card that has names such as "Young Master Dickens" and "Young Miss Webb" as patrons that have checked-out The Maze of Games before at the library.
The introduction to the story is short and sweet and you dive right into the challenging puzzles quite quickly. One of the first puzzles is called "The Castle Maze" which determines the order of puzzles you complete in the chapter.
The solution for "The Castle Maze" order is as follows:
Three of Diamonds
Queen of Diamonds
Eight of Diamonds
Nine of Diamonds
Jack of Diamonds
Four of Diamonds
Seven of Diamonds
Two of Diamonds
Ten of Diamonds
Five of Diamonds
Ace of Diamonds
Six of Diamonds
I'll update this post with more solutions as I solve them, but I wanted to give a quick first impression of the book itself and the puzzles contained within. Enjoy!